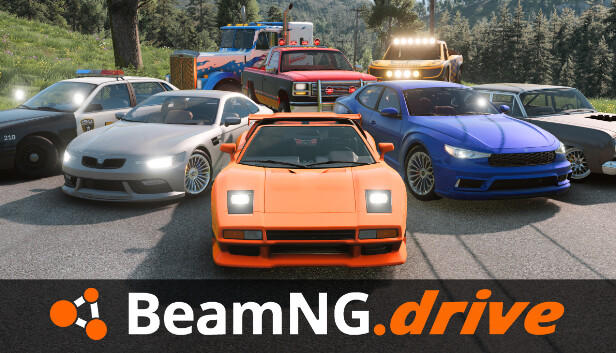 Today we're here to spill some much-needed hot news to your screens with the release of version 0.21! Featuring a complete Jungle Rock Island map renovation, bringing new locations to explore and a myriad of updated roads for that sunny winter getaway, as well as revamped vegetation and a brand-new waterfalls zone.
If a tropical paradise isn't up your alley, you'll be happy to hear that West Coast USA received an improvement pass, including multiple new locations and the addition of two new roads – City and Highway Tunnels.
The long-awaited Gavril D-Series Remaster Part 2 is finally here with updated interiors, lights, revised configurations, and several new D45 variants. This isn't all for the D-Series, however, hold on to your pedals because the D-Series Prerunner & Crawler models are now available and ready to conquer anything you throw at them (or them into).
We've also improved our tire model with new tire-ground contact physics. This has slashed long standing limitations in rolling resistance, high speed grip, and cambered tire behavior. With all tires retuned to take advantage of these changes, our vehicles are handling better than ever.
Last but not least, we've polished official localization for the languages listed below; for more information on how to provide feedback and report issues, please keep an eye on the official Discord server.
Spanish (Spain)
French (France)
Japanese (Japan)
Korean (South Korea)
Portuguese (Brazil)
Portuguese (Portugal)
Russian (Russia)
Chinese – Simplified
Chinese – Traditional
As always, we would like to thank everyone for your continuous feedback, suggestions, and bug reports! We hope you enjoy the update and wish you Happy Holidays!
HIGHLIGHTS
Jungle Rock Island Remaster
West Coast USA Improvements
Gavril D-Series Remastered Part 2
Gavril D-Series Prerunner & Crawler
VEHICLES
Bruckell Legran

Light Jbeam rework

Restructured rear frame to be more physically accurate
Front frame tuned for better deformation, new bumper support design
Rear doors now have 2 full jbeam segments
Fender structure improved, simplified
Headlights and taillights are now separate and detachable

Fixed roof mesh spiking issues
Added disc brakes
Added lifted springs and shocks
Fixed rear drum brakes using disc thermals

Bruckell Moonhawk
Cherrier FCV

Increased amount of added floor strength when a battery is fitted

Civetta Bolide

Polizia config changed to use same wheels and tires as the 350GT. The previous tire setup did not suit the chassis and proved to be too oversteery
Fixed headlights values

ETK 800-Series
ETK K-Series

Reduced gear whine volume
Replaced old ESC/TC system with advanced Driving & Safety Electronics
Added various drivemodes
Added ActiveLocking differential
Added TorqueVectoring differential
Added adaptive dampers
Added adaptive swaybars

Gavril Barstow

Fixed triangulation issue with front fenders
Taillights are now detachable
Added front subframe brace

Gavril Bluebuck

Bodystyle slot replaced with individual bodies
Fixed rear wheels breaking off on some offsets

Gavril D-Series

Added 6.9 V8
Added race N/A intake
Added front guard
Added rear marker lights for dually trucks
Added drum brakes
Increased torsional rigidity of heavy-duty frames
Modular Desert Truck Parts

3 new custom offroad frames
Long travel offroad suspensions, with Independant (4WD/2WD) or solid axle from suspension options all with bypass shock abosrbers
Bobtail rear end, dove-cut front and rear ends, or full wide body fenders
2 Pre-Runner configurations: Standard length frame and extended frame
2 Crawler configurations: a crew cab crawler and the Superpig
1 Hybrid 4WD IFS Desert Rock Racer configuration

Gavril Grand Marshal
Gavril H-Series

Updated glass materials
Added "Street Tuned" config
Added "Old Paint (Colorable)" skin
Added derby config

Added Rollback


Added 6.9 V8
Added race N/A intake
Added front guard
Added drum brakes
Fixed cab roof accessory slot
Increased torsional rigidity of heavy-duty frames

Gavril Roamer

Added 6.9 V8
Added race N/A intake
Added drum brakes
Increased torsional rigidity of heavy-duty frames

Hirochi SBR4

Replaced old ESC/TC system with advanced Driving & Safety Electronics
Added various drivemodes
Added ActiveLocking differential
Added TorqueVectoring differential
Added adaptive dampers
Added adaptive swaybars

Hirochi Sunburst
Ibishu 200BX

Added "Trackday Beater" skin
Added automatic drag transmission
Added adjustable wheelie bar

Ibishu Covet

Added various sport exterior parts
Added 2.0 engine from the Ibishu Pessima

Added drag configuration

Replaced beater with derby and skidplate configurations


Reworked rear end jbeam structure for better node density
Front and rear fascias, headlights and taillights now separately detachable
Removed "blown" engine and suspension parts
Added 5 lug hubs
Added heavy duty and ultra-heavy duty engine mounts
Added hood exhaust for 2.0 turbo and 1.5 N/A
Added headlight air intake
Added headlight blanking plates
Added drag rear bumper
Added lightweight glass
Added carbon tailgate and spoiler
Added sport brakes

Ibishu Hopper
Ibishu Miramar

Increased the stiffness of the steering box structure for better steering feel

Ibishu Pessima (1988)
Small Flatbed, Box Utility and Large Box Utility trailers

Added pre-loaded configurations

Wheels 
Misc

Improved colors for Navigation Unit map for better contrast between road and background

Aerodynamics tuning of all vehicles: Drag, lift and downforce values to more realistic values now that top speeds are not hampered by high tire rolling resistance

Minor suspension retuning on various cars to suit improved tires
All cars with independent suspension halfshafts: fixed issue where breaking a halfshaft would break off the wheel
Added 265/75R16 and 245/76R16 dually rear tires
Reworked the texturing on the rock crawling tire (offroadtire_06a)
LEVELS
Adjusted time scale on all levels: It now takes 18 minutes for a full cycle
Automation: Fixed several AI path issues
Derby Arenas

Updated map with new buildings and clutters
Reworked the arena with new textures and some small modeling changes
Fixed some decals issues

East Coast 

Fixed floating bushes and tree
Fixed some AI road issues
Fixed floating trash objects 

Gridmap: Fixed a collision issue causing inaccurate collisions
Hirochi Raceway: Fixed pole through tents
Industrial Site

Fixed floating decalroad in container land
Fixed port crane width

Italy

Minor fixes: road markings, deleted stray AI paths
Fixes to AI paths to improve the performance of traffic
Added anisotropic filtering to container materials 

Jungle Rock Island

Laid down Peninsula terrain layout
Updated industrial site with new buildings and layout
Updated Mine zone
Built abandoned Fortress and bridge
Rebuilt the Airfield (Tower, Hangar, Abandoned control building and airstrip)
Rebuilt bridges and tunnels

Added the Abandoned Resort
Reshaped the area at the Volcano top
Added abandoned bunkers and cannons
Created waterfalls zone
Rebuilt all beaches and coast cliffs
Reworked vegetation and road textures
Renovated old observatory 
Renovated port area 

Utah: Improved AI paths to solve some vehicles crashing into obstacles
West Coast: Fixed some AI issues on highways
SCENARIOS
Industrial Shakedown Scenario: Updated the ramps models and textures
Jungle Rock Island: Revamped existing Time Trials and Scenarios
DRIVING DYNAMICS
Implemented new differential types:

Active Locking Differential
Torque Vectoring Differential

Fixed wrong rear wheel angle calculations
Implemented motor torque control for yaw adjustments
Exposed drivemode color to electrics ( electrics.values.dseColor )
Adjusted body slip angle calculations affecting throttle control too much in low speed + high steering angle scenarios
POWERTRAIN
Improvement to clutch angle calculation affecting behavior when partially clutched in
Fixed "Fundamental Frequency" setting not working in Engine Audio Debug app
Pefrormance optimization of various devices
Fixed possible NaN source in electric motor load calculation
Improved DCT shifting smoothness for low load applications
Combustion engine now additionally exposes actual idleAV min/max values
Combustion engine now gains ignition issues when damaged
Combustion engine now starts to stutter when the fuel tank is almost empty
RENDER
Added new Screen Space Ambient Occlusion with better quality and better performance with high resolutions

 

 

 

 

 

Added support Sun's shadows in translucent materials

 

Added automatic enhancement of shadows when using Driver camera: Shadows closer to the camera will appear more defined

 

Reduced memory used to render grass by 75%
SMAA is now the default Antialiasing mode when using Normal or Higher quality
Added ability to adjust color correction strength
AUDIO
Brake squeal for all vehicles – silent for stock vehicles, progressing up to race spec vehicles
Discrete volume balancing between all engine/exhaust sample sets in FMOD. New default ratio load/offload curves in jbeam. All engine/exhaust jbeam volumes adjusted to compensate.
Direction-based filtering for ambience sounds
Rumblestrip improvements
Kickup/Skid/Roll tweaks (ongoing) plus higher pitch skid for extra smooth surfaces
Support for different tyre size/volume/tread/stiffness altering pitch of asphalt skids (ongoing to include other surfaces, and volume)
Reworked ambiences for Jungle Rock and West Coast USA
Improved energy calculation of break sounds
Implemented brake squeal logic
Added brake squeal to glazed brakes to convey their state more easily to the driver
TRAFFIC
Implemented smarter initial spawn points of traffic vehicles
Improved respawning of traffic
Improved default generated selections of vehicles for traffic
Added player infractions to the police mode in traffic; they are listed in the Messages UI after you get pulled over
AI
Bug fix for nan value in traffic avoidance force coefficient
Fixed issue where AI could not resolve sharp angle of plan line and got stuck
Added AI follow mode for following a target vehicle
Bug fix to AI chase mode where the AI vehicle would not update its path under certain high velocity conditions
Improved ability of AI when chasing a target vehicle at close proximity
Pathfinding:

Improved traffic AI pathfinding and following
Added a pathinder that calculates a navgraph shortest path between a graph node and a (vec3) position (and vice versa)
Added a pathfinder that calculates a navgraph shortest path between two (vec3) positions
GAME ENGINE
Faster file comparison for Texture cooker
Fixed old console overwriting console history
Fixed GPU performance counter displaying 0
Implemented hot loading of texture for TerrainMaterials
Fixed switchable material getting in previous state when recovery was used
Implemented error mesh showing if mesh failed to load or is missing (no_mesh.dae)
Fixed glowmap that didn't work in replay
Steam Rich Presence: Fixed status not being cleared when disabling
Fixed parts list not being refreshed after activating/deactivating a mod
Added improved spawning system that prevents vehicles from spawning inside level objects or vehicles

PHYSICS
Optimizations on all parts of the physics core. Now it's more than +10% faster
Added calcCenterOfPressureRel, calcTotalAeroForces, calcTotalAeroTorque core functions that calculate aerodynamic properties of the vehicle
Added isNodeColliding(nodeId) core function. It returns if a node is colliding right now with a solid object
Added hasNodeCollidedDuring(nodeId, timeDuration) core function. It returns if a node has collided in the last timeDuration with a solid object
Fixed a crash in static collision subsystem that happened when a node's position was at infinity
UI
Fixed minor issues with Traffic UI app
Added new differential torque vectoring icon 
Added new differential active lsd icon 
Fixed ordering of vehicle configs, so that it does not change randomly, in the vehicle chooser
Added new icons for electric motors, active locking & torque vectoring differentials in the powertrain app
Added new loading screen images
Fixed freecam not working in the Navigation app
Added a warning to the long-time deprecated Themes feature
Photomode V2

Overall improvements to interface
Added ability to control various parameters and effects temporarily (reset when closing photomode)

Added control for Time of Day
Added Filters (color corrections) with adjustable strength. Filters selection can be expanded by adding more textures in art\postfx
Added option to toggle Dynamic Reflection
Added controls for Ambient Occlusion
Added controls for Depth of Field

Added tooltips
Added button to open the screenshots folder
Repository
Graphics Menu

Added tooltips to most settings, improved existing ones
Improved look of the Dynamic Reflections settings
Improved look of Display settings
Added button to reset PostFX settings to default
Renamed a few options to be easier to understand

Level, Campaign, Scenario and Quickrace Selector

Moved search bar location, added button to clear search entry
Thumbnails grid will now only show the main thumbnail of the level. The slideshow for the level's thumbnail has been moved to the description panel

Vehicle Selector

Improved scaling of top-row buttons

Parts Selector
Vehicle Save/Load Menu

Overall improvements to interface

Added button to open the current vehicle's configuration folder
Added button to clear search entry
Added icon showing the source of configuration (BeamNG, User, Mod)
Added ability to delete User configurations by double-clicking the related button
Added option to disable automatic thumbnail when saving a configuration

Environment Menu
UI Apps

Fixed font issues on 'Simple Pitch' and 'Simple Roll' apps
Navigation app will now move the view according to your speed, improved zoom levels
Converted Rangebox and 4WD Mode buttons in Radial Menu to toggles, removing one step to operate them

Localization– Updated translations to include missing strings: 

Spanish (Spain) 
French (France)
Japanese (Japan) 
Korean (South Korea) 
Portuguese (Brazil) 
Portuguese (Portugal) 
Russian (Russia) 
Chinese – Simplified
Chinese – Traditional 
CAMERA
Added collision detection for 'Chase' and 'Orbit' cameras

INPUT & FORCE FEEDBACK
Added new steering lock angle behavior 1:1 (can only reach full lock if your steering wheel turns as much as the current vehicle's)
Added dropdown to choose between the three-steering lock behaviors
Improved various texts in force feedback menu
Added extra logs in some corner cases where an input device fails to work
WORLD EDITOR V2
Added new preferences system and Preferences window (will reset all user editor preferences on first run)
Added an autosave level system, found in Preferences->Files
Added fine rotation and scale scalars when pressing Ctrl and using axis gizmo
Added shortcut Ctrl+Wheel to modify fade icons distance
Added smooth camera move and rotate checks in Camera menu
Added camera zoom (move forward/back) on mouse wheel
Added additional visualization modes for the navgraph
Various Inspector droplists are now sorted and work properly (materials, sfx items, etc.)
Toolbar now dynamically changes height when there are buttons in the second row
Scene Tree

Improved scene tree node context menu with various new items (locking, hiding)
Added sort menu items for groups in scene tree window node context menu
Scene tree items will show (clickable to clear) hidden and locked icons next to them if they are in those states

Mesh Road/River Editor

Add new nodes with "Shift" and using axis gizmo

Forest Editor

Added multi selection with Ctrl
Added brush keyboard shortcuts (keys 5 –

Asset Browser

Added drag and drop to scene for prefab assets
Added "Spawn prefab at camera"

Material Editor

Added Color Palette UV selector
Improved Advanced submenu

Added vehicle aero debug app to the vehicle editor
"Raycast test tool" now includes a mode for static object raycasts
Various other bug/UX fixes
LUA
Updated SBR4 spoiler logic to be adjustable by driving modes
Fixed wrong default value handling for custom shiftLogic files
TwoStepLaunch is now active by default on cars equipped with it
Added Tools > "Log gelua profile" option to Performance Graph menu, provides an overview of time and GC costs
Fixed performance profiler attributing input costs to physics section
Fixed LUA's global variable detector skipping checks on all extensions. If you're an author of LUA extensions, you might start seeing new warnings
Fixed speedometer getting stuck with a NaN value after a physics instability
Added triangleBarycentricNorm, altitudeOBB_Plane, intersectsRay_Plane, intersectsRay_OBB, intersectsRay_triangle functions to mathlib.lua
Optimized minheap that is used by AI's graphpath. It is both faster and does less memory allocations now
Added doubleExponentialSmoothing filter
Added a function to evaluate whether a position is appropriate for spawning a vehicle as regards to the trajectories of surrounding vehicles.
Added 'type' field in map edge data. It allows for the definition of different types of roads by use in the map data.
BANANABENCH
Reduced variance of the speed measurements by using the best time out of 100 tests
Removed speed measurements with collision disabled. They are not as useful any more
PERFORMANCE GRAPH
Fixed Physics Other calculation (showed huge negative number)
Added transparent background

Moved buttons around to clear some space
Stabilized graphs for better readability
MISC
Recovering a vehicle now places it on the ground if possible
Fixed issue where certain props could spawn in the air
Path Camera: Fixed error in some cases when two markers were on the same position
Fixed issue where changing the camera mode could make the game stutter
Updated warn textures
Cleaned up old PostFX presets, renamed default preset file
An up-to-date list of known issues can be found in the dedicated Feedback & Bug Reporting Thread here.
Instructions on how to update the game here.
More info: The 2020 Winter Release – BeamNG v0.21