Hello everyone, we're thrilled to release BeamNG.drive V0.22 today! This update comes with some major content additions and updates. This includes audio polishing, quality of life improvements for various levels, a brand new gameplay perspective, and the inclusion of a long-awaited vehicle! We hope this content continues to bring some much-needed fun and immersion for you. As always, we appreciate your continued support.
Soliad Wendover
Let's begin things with the highly anticipated and legendary Wendover! Produced from 1987 to 1995 by American automaker Bruckell and sold under their luxury marquee Soliad, the Wendover is the epitome of late 1980s technology and styling. Sharing much of its underpinnings with the smaller LeGran, the larger, sleeker coupe body allows for a powerful transverse-mounted V8 engine to be fitted in place of the factory standard V6. The LeGran's 4 cylinder engines can also be fitted, and all engine options have superchargers available to boost power. The Wendover features advanced mono-leaf rear suspension, allowing for the installation of a rear differential to transform the vehicle into a snappy, responsive handling machine.
Nestled in the luxurious, comfortable interior is the latest and greatest high-tech digital dashboard; the Wendover Information System, or WIS. Futuristic gauges and easy-to-read display can keep the driver constantly aware of everything they might need to know. The Wendover received a face lift in 1992, adding flip-up headlights, even sleeker, more modern styling and a lightly updated interior. Unable to recapture the initial popularity brought on by Bruckell's deal with the Belasco 400 to make the Wendover its official pace car, production stopped in 1995.
Despite its odd weight and size, the Wendover is considered by many to be an excellent performance car given the right modifications, and has been used for everything from track racing, rallies, hillclimb time trials or even demolition derbies. We hope you run the storied Wendover through this entire gamut of activities, and much more!
Walking Mode
Aside from the latest addition of the Wendover, we even have a new Walking Mode to try out! With this mode, we've enhanced the feeling of being an actual, living driver in the game. Through the first-person perspective, you can hop out of a vehicle and traverse the environment at eye level, with movement speed changing depending on your surroundings and terrain. Simply hop from car to car in a parking lot for a whole different perspective.
Vehicle Triggers
Alongside this, we've added Vehicle Triggers that you can take advantage of in several camera modes. These small but specific sequences can be activated on a vehicle. It could be as simple as adjusting a pickup truck's trunk after loading it with materials, or guiding the ramp of a maintenance vehicle down to the ground. Triggers are fully configurable on each vehicle, but please keep in mind that only a few vehicles feature them at the moment.
Bruckell Legran Remaster
Last but not least, the Bruckell Legran Remaster is finally rolling in! Featuring new facelift variants, a remastered 3D model, highly improved interior, and loads of different configurations for various play styles. Whether it's a plain sedan or a police cruiser, there's lots to take on with the Bruckell Legran Remastered.
In addition, we've released a new website and refreshed our documentation.
There's still plenty more to discover in 0.22. Many further fixes, optimizations, and improvements were implemented for game audio, physics, engine, World Editor, and more. Check out the full list below.
Vehicles
NEW VEHICLE - Soliad Wendover

Full-size luxury FWD coupe
Mechanically based on the Bruckell Legran
Transverse V6, V8 and I4 engine options
Facelift style package with concealed headlights
Many customization parts, wide body kit, spoilers, roll cage, AWD option and more
Features digital gauges
Fully fleshed out derby configuration with strengthened bumpers, steel box frame roll cage, windshield bars, reinforced radiator, bolted hood and welded doors
A good variety of configurations including many factory models as well as 'Race', 'Rally', 'Police Interceptor', 'Safety Car' and more
Autobello Piccolina

Improved rear quarter glass deform groups

Bruckell LeGran

Total 3d model and texture overhaul
Continued Jbeam improvements
Increased strength of Legran front control arms
Many new factory and customization parts: wagon body, facelift style package, wide body kit, spoilers/wings, roll cage, independent rear suspension, AWD and more
Full set of derby parts with toughened bumpers, derby roll cage and windshield bars, reinforced radiator, bolted hood and welded doors
Many new configs, including a reworked selection of factory spec models, 'Race', 'Rally', 'Police', 'Taxi', and more
Added "GRUNT Livery (Colorable)"
Added "Rally Livery (Colorable)"
Bruckell Moonhawk

Fixed collision fighting on a pillar/door

Cherrier FCV

Reduced drone of Vivace i4 diesel sound
Fixed incorrect damping on rear suspension of the Tograc causing unnatural bouncing

Dry Van Trailer
Gavril D-Series

Fixed missing backfaces on spare tire cover
Fixed D10 Zeta model years
Added animated controls for rollback
Added muffler for desert truck
Added ESC light
Added heavy radiator to Pickup D45 configurations
Tweaked air bump stop tuning on Pickup Pre-runner configs

Gavril H-Series

Added animated controls for rollback
Improved breaking behavior of Van roofrack
Reduced harshness of Pickup and Van race exhaust

Gavril Roamer
ETK I-Series

Tweaked lateral deform of radiator support

ETK K/800

Reworked turbo/intercooler jbeam structure
Fixed broken variables tuning in ETK-K race differential

Hirochi SBR

Improved spiky mesh deformation on rear quarter panel
Digital gauge added driving modes and color changes for eSBR
Fixed steering travel limits of SBR4 drift steering

Hirochi Sunburst

Fixed front bumper bar collision fighting

Ibishu Covet

Fixed headlights beam clipping issue
Tweaked range and rotation of front blinkers beam
Fixed front bumpers flares position

Ibishu Hopper

Fixed driver camera being able to invert into the back of the vehicle with enough force
Fixed missing backfaces on spare tire cover
Increased Hopper wheel attachment strength

Ibishu Pessima 1996

Tweaked RPM gauge to allow needle to travel to its end stop in over-rev
Added sport intakes for I4 and V6 engines

Ibishu Pigeon

Fixed UV Issues on the bed box
Updated tire tuning

Wentward DT40L

Added 'Metro' skin for the City configuration
Wheels

Added "TIMS Kodaira" Wheels
Updated "Alder Basketweave" Wheels
Added "Soliad Vertigo" Wheels
Added "Soliad Tornado" Wheels
Added "Soliad Bragenham" Wheels
Tweaked materials on "TIMS Egota (White)"
Tweaked materials on "Ibishu Blades (White)"
Tweaked materials on "Okudai RZ4 (White)"
Hubcaps

Added "Soliad Astro" Hubcaps
Added "Soliad Storm" Hubcaps
Tweaked materials on various Bruckell hubcaps
Fixed mesh clipping on Carplus C55 hubcaps
Props

Added 'Full Size' & 'King Size' Matress
Misc
Added welded differentials to 80s Pessima, 90s Pessima, Sunburst, Covet, Legran
Added race differentials for Legran and 90s Pessima
Increased friction of oil barrel
Added engine deform groups system as well as stock, heavy duty and ultra heavy duty engine mounts to most vehicles
Added roof bars with generic loads
Reworked lowrider controls to not conflict with horn
Fixed some off-road tires missing periphery reinforcement beams
Fixed refnode alignment on Tire Wall, Cinder Block Wall, Piano
Added vehicle triggers. Docs here
Levels
Derby Arenas

Fixed a strange decalroad rendering issue on the track

East Coast USA

Fixed floating rocks in park
Fixed a normal map issue on some house objects
Fixed the swamp not drowning cars in certain locations
Fixed some floating trees in the north east

Gridmap

Fixed ramp UV mapping issue

Industrial

Fixed floating decalroad
Adjusted container position to allow large vehicles access to the port

Italy

Fixed floating boxes
Fixed floating trees
Fixed floating decal road on statue
Fixed misaligned wall
Fixed AI pathing issue under bridges
Fixed a road sign being on the road itself
Fixed missing glass reflection
Updated thumbnails

Jungle Rock Island

Fixed decal road issue
Fixed collision mesh in the abandoned resort
Deleted underwater bushes and grass popping out from roads and concrete
Fixed floating trees
Fixed missing collision on shed
Fixed floating rocks

Small Island

Fixed decal issues
Fixed floating rocks
Fixed hay bales in a rally scenario

Utah

Updated materials
Fixed path in the parts run campaign scenario to be easier to drive on
Fixed the background terrain having no collision
Fixed some floating objects

Added 13 garages:

East Coast USA: 3 garages
West Coast USA: 4 garages
Utah: 2 garages
Italy: 4 garages
Added 13 dealerships:

East Coast USA: 3 dealerships (classics, offroad and an ordinary dealership)
West Coast USA: 4 dealerships (mid-range new, mid-range used, high end and junk dealerships)
Utah: 3 dealerships (modded/import, truck and SUV and new offroad dealerships)
Italy: 3 dealerships (high-end, mid-range, junk dealerships)
Fixed different AI paths in Automation, Italy, East Coast, Jungle Rock Island and West Coast maps
Walking Mode
Implemented walking "vehicle" that reacts physically to its surroundings. Features:

Walking
Sprinting
Jumping
Crouching
Can be recognized by traffic
Can climb stairs, hills
Ability to "swim"
Scenarios
Converted the Speedy Scramble flowgraph demo into a fully playable scenario
Remade East Coast Chase scenarios with Flowgraph system: New features and improved gameplay
Powertrain
Optimized DCT shifting
Ignition now behaves more consistently across different gearboxes
Shaft-like devices have the ability to select which angular velocity is reported to the electrics system
Added gear whine support to automatic transmissions
Made it possible to damage superchargers
Game Engine
The default user path moved from Documents/BeamNG.drive to User/AppData/Local/BeamNG.drive/0.22.0.0

We would like to provide better user experience after an update: without broken mods
This fixes various problems we were having before: Users having Documents in Cloud storage, broken Games after updates
All mods are disabled after an update. You can enable them again in the Mod manager

Updated vehicle recovery with improved performance (Looking at you, Pre-Runner)
Fixed inverted y-axis for PS4 controllers
Added helper logs in cases where some USB devices with buggy drivers result in long game startup times (from 10s up to a minute or more). The issue is now identified and shown in logs, to help users figure out which of their USB devices or drivers might be faulty.
Greatly improved startup time logging to help identify potential issues leading to long startup times.
Fixed many cosmetic effects suffering a progressive desync over prolonged game sessions (e.g. dynamic day/night cycle not using the right sun position, slightly laggy aerogenerators in ETK Driver Experience Center, etc).
Fixed per-map particle emitters not working when using slow motion.
Improved playback of particles in Replay mode. The result should now be more faithful to what was originally recorded, regardless of the use of slow motion.
Fixed replay not restoring broken meshes (e.g. tires with missing chunks of rubber) during playback.
Fixed License plate generation (Steam name also works correctly)
Fixed Fmod Live update and Bank Hotloading
Added parameter cache to improve performance of Sound System
Drag Race enabled AI awareness for opponent
Rich presence is opt-in instead of opt-out
Fixed imposter false error on packed mods with broken modification time
Fixed _uv1 textures using texture cooker postfix at the same time
use meshoptimizer to sort indice of tsMesh
Fixed Vehicles props reappearing when switching vehicle
Fixed outgauge from RemoteControl breaking when switching vehicles
Fixed Decal Road bounding box calculation
Fixed null access of object dictionary
fixed external UI modes up a bit.
Physics
Added ability to have non-collideable triangles with aerodynamics
Removed duplicate sound source filtering. It was affecting wheel sound intensity under certain circumstances
Reworked subsystem that controls rolling resistance of tire contact patches. It improves low speed rolling resistance
Reworked subsystem that controls contact patch load sensitivity. It is more robust now
Tire softness was disabled as it could affect tire response curves in weird ways
Fixed tracking of collision object identifiers
Fixed physics core crashes when trying to log corrupted log messages
Reduced low speed triggering noise of rumblestrip frequency detector
Tweaked off road surface friction to balance tire softness changes
Audio
Tuned brake squeal to appear less suddenly on race cars at slow speeds
Fixed cockpit sounds fading off erratically when driving fast (audio reference points were slowly falling behind camera).
Fixed noticeable audio artifacts when driving at speed (doppler simulation was using mismatched information).
Fixed a broken optimization of audio update cycle, which could have contributed to tiny framerate inconsistencies (not noticeable by themselves).
New audio for damaged rod bearings.
New transmission audio for citybus
Gear whine support for automatics
Improved ambience sounds
Improved scrape sounds
Additional work on tire properties affecting surface audio pitch/volume/timbre incl. tire proportions, contact patch, rubber softness.
New bespoke dirt, grass and gravel roll/skid audio, new rough skid for surfaces like wood, improved asphalt roll
Performance and memory optimizations
Input & Force Feedback
Created an input troubleshooting PDF guide to help sort out the most common issues. A link to it can be found ingame at Options > Controls > Force Feedback menu, or you can «click here to open it»
Improved control reassignment process: it's now harder to unintentionally bind mouse movements, and there's real-time feedback about what's being detected.
Made it more obvious which button allows to reassign an existing binding.
Improved display of overlapping bindings: it's now clearer what's the function of the button besides each conflicting binding.
Improved "Filter" dropdown and tooltip when editing a binding, making them easier to understand.
Fixed harmless bug where the inputmap files would contain unused fields.
Fixed the 8th gear binding being described as 7th gear.
Better information from input devices is now logged to better assist when problems arise.
Fixed execution of unintended bindings when the same key is assigned to multiple bindings in some rare cases (didn't happen with the default game bindings).
Fixed 'steering lock type' showing up in unrelated bindings.
Added new cruise control bindings to change set speed in larger increments
Improved the Force Feedback assignment system, specially when multiple devices support haptics (e.g. ffb steering wheel + vibration gamepad), or during multiseat. It should no longer be necessary to unplug devices in order for Force Feedback to reach the (correct) steering wheel.
Improved the Force Feedback logging to provide better information in case any issue arises.
Reduced the Force Feedback failsafe update rate as a precaution, from 1000Hz down to 60Hz (we're not aware of any cases where this failsafe was used though).
Simplified Force Feedback settings: we no longer offer the "Force Limit" percentage slider, as it provides no advantage over configuring the device drivers appropriately.
Improved some Force Feedback menu tooltips.
Disabling Force Feedback will now visually gray out its options.
UI
Cleaned up the ctrl+F extended metrics panel.
Revamped listing of replay bindings
Added translations for Launcher and Support Tools
Fixed the minimum and maximum FPS display in ctrl+F panel: they used to show the all-time historic values; now they show short-term historic values
Fixed some typos and outdated labels in Options > Controls menu
Fixed noisy thumbsticks in some gamepads not allowing the use of directional-pov to navigate the UI
Fixed the Performance Graph menu showing 0ms for the 'Other' section of CPU time: it now reads the right measurement
Fixed the Performance Graph showing beautified time measurements in the 'framelimiter' section, instead of the actual time
Fixed the Performance Graph incorrectly including some non-physics load as part of the 'physics' section
Updated Xbox bind icons
Added Mouse bind icons
Updated loading screens
Improved position of License Plate tooltips in Parts Menu to avoid blocking other buttons
Camera
Fixed issue where the per-level nearclip distance could be modified by the currently active camera
Fixed 'Relative' camera not always offering the default per-level nearclip distance in its radial menu
Fixed 'Driver' camera field of view not always being saved correctly
Fixed the camera "autofit" functionality not working correctly in the old World Editor
Added transition effect when switching vehicles or entering/exiting walking mode (can be disabled in Options > Camera)
World Editor
Mesh-, River- and Decalroad editors

Cleaned up UI of meshroad and decalroad editors
Added "Overwrite depth" to meshroad- and river editors
Meshroad: Fixed flickering when placing a new node
Removed the need to select a node when inserting a new node
Slightly changed node placement method of river and meshroad to be more in line with decal road
Disabled "Click and drag width" for new nodes by default

Cam Path Editor

"Set for all" doesn't overwrite cuts anymore
Fixed error when cutting on the last marker
UI improvement

Particle Editor

Update changes to emitters or particles in real time
Improved UI for choosing particles
Added file browser for choosing particle texture file

Decal Editor

UI overhaul. Moved template list to a separate window

Terrain Editor

Fixed the position of the brush in relation to the cursor while editing the terrain
Fixed brush mouse click getting stuck while editing
Improved terrain brush performance and stutters on bigger levels

Object Tool

Fixed object jumping around when rotating in local space
Fixed undo/redo for scaling

Added new option to terrain snap to "snap to origin" of object
Added camera speed and TOD sliders to the toolbar
Put duplicated objects in the same group
Keep objects selected when closing and opening the editor
Changed float digit count to 3 on default
Fixed some crashes and issues related to prefabs
Various fixes to many tools
Fixed bug preventing proper saving of vehicle groups in the Multi-Vehicle Spawner window
Added fps counter and scene stats (number of polygon)
Improved camera movement in shape editor and material preview
Validating input values for options in GroundModel Debug Tool
Updated theme
Improved scenetree: search, order by distance
AI
Fixed bug where traffic might drive on the wrong side of the road when merging from a one way road to a normal road
Improved traffic basic intersection logic
Improved chase mode
Consolidated map.nodes data and graphpath data to reduce duplication
Improved stop mode behavior
Return controls to neutral position when ai mode is set to disabled
Initialize targetSpeedSmoother with current ai speed on setMode
Reset currentRoute if local mapData becomes out of synch with mapmgr.mapData
Traffic
Added vehicle pooling feature (work in progress); when enabled, the traffic system spawns extra vehicles, and changes their visibility in a cycle to allow for more variety of vehicles
Police vehicles are now less likely to despawn if they are chasing the player from behind
Improved traffic vehicle respawning logic
Flowgraph Editor
Added ScatterSky nodes
Added Clouds nodes
Improved Fog nodes
Fixed an issue with Vehicle Color node
Added missing descriptions, various improvements to existing nodes
Added State system: The state system is a new way to work with the Flowgraph Editor. Before, the whole project had to be inside one gargantuan graph, which made bigger projects painful to create, manage and maintain Now, the project can be split into parts, which each represent their own graph. You can trigger state transitions inside the graph and pass values from one state to another States can also be grouped into Group States, which allows for finer control over which states start and stop with each transition
Added Examples System (WIP): New to Flowgraph or curious how a certain node works? The Example system is a collection of simple and well documented projects, each showcasing a certain feature, system or node !
Added Event Log: The event log is similar to the console, but it only captures Flowgraph-specific events, such as state transitions, spawning vehicles through nodes, or errors caused by nodes. You can click the elements to be brought directly to the source of the event
Improved Node Library Search: The Node Library search will now let you find the nodes you need faster by ordering the results based on your previous searches as well as showing the results in a more condensed way
Added Project Search: Trying to find that one node in a big project? You can now use the project search window to find nodes, graphs or pins in your project
Added Flowgraph Monitor: When you test your projects, you can now enable a setting that automatically hides the editor and shows a small Flowgraph Monitor Window instead The Monitor Window will show you active states and the event log. When you stop the project, the editor will show again
Cleaned up UI: The UI of the flowgraph editor has been adjusted in many small ways to make more use of the available space
Shortcuts: Various shortcuts have been added that let you work more easily with the editor, such as auto-connecting nodes or hiding/unhiding of links
Preferences: Cleaned up the old preferences menu. Flowgraph now uses the World Editor Preferences window. Various preference settings have been added
Improved Menus:

Recent Files: The File Menu now has a submenu for the most recently used files
Recover Files: The File Menu now has a submenu for recovering files after a crash, by using the autosave feature
No-Project-View: The No-Project-View now also has improved file-opening entries such as recent files and recover files

Nodes:

Various bugfixes, improvements and additions across most nodes
Improved Hardcoding pins: Nodes can now use template values for pins. Also added filepath utilities to pins
Added Custom Lua Node: You can make custom logic more efficiently with this node, by adding custom lua code directly in the editor. You can also customize pins and save nodes you made this way

Flowgraph Editor Fixes:

Better Node Alignment: Nodes now properly align to each other
Comment Node fixed: The Comment node will now correctly keep its size in all cases
Actionmaps: Actionmaps for Flowgraph are nor always properly set

Scenarios:

Added 5 new Flowgraph-based scenarios:

East Coast Chase 1-4: Re-imagined from the already existing scenarios, these Scenarios each offer a unique challenge by trying to stop criminals
Barrel Knocker: Use an old truck to knock over as many barrels on the industrial map as you can in this quick, arcade-style scenario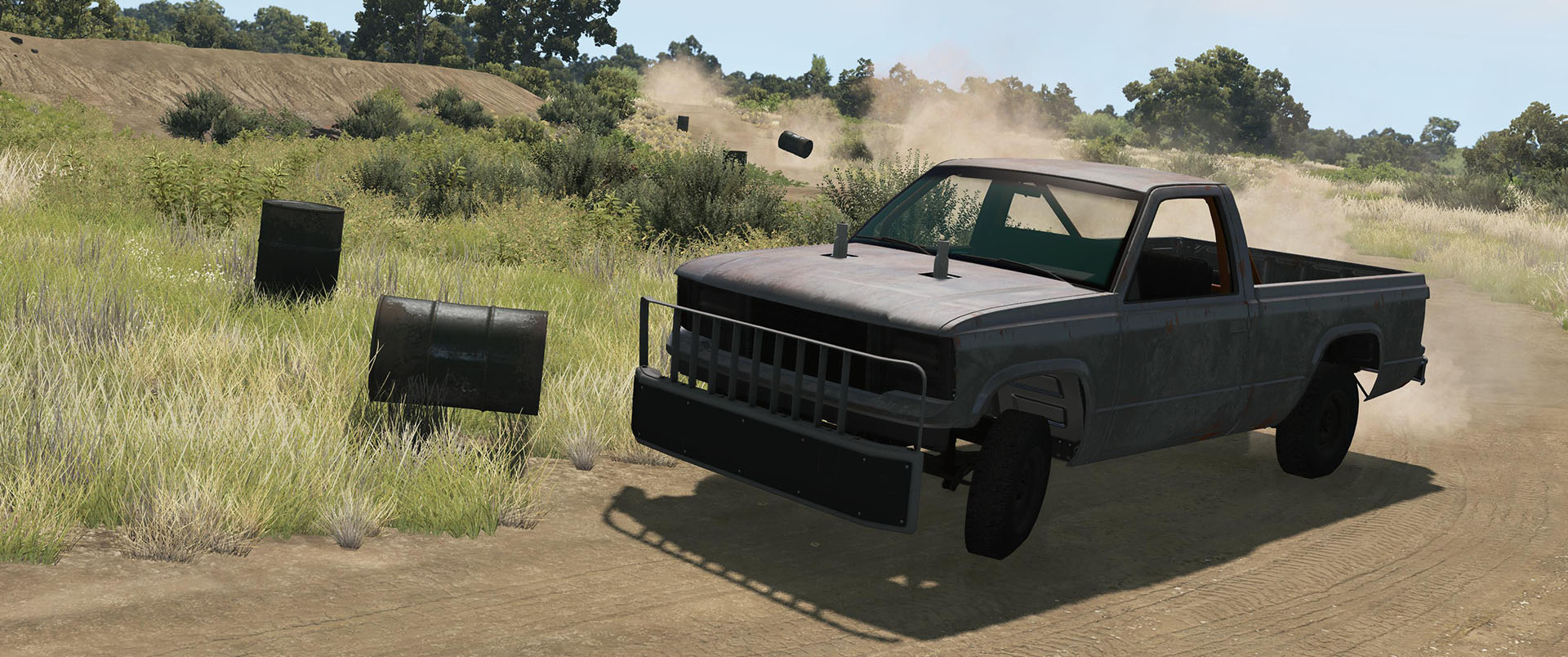 Converted Speedy Scramble into its own scenario. Previously only accessible through the Flowgraph Editor
LUA
Added "set" method to float3
Added "vec3:xyz()" method. It returns x, y, z components of vec3
Added "containsEllipsoid_point" function. It returns if a point is inside an ellipsoid
Added "ob:getBeamStressDamp" method. It calculates with more accuracy the internal stress and damping forces of beams
Added "wheel:isRotatingBrakeCouple" method on wheels. It reports if a wheel is rolling while filtering rotational noise
Added setSFXparameter to looped sound sources. It allows to define extra constant parameters on sound sources
Decreased transient memory requirements of setMap
Fixed extensions getting loaded twice (one case where this happens is if calling code used different capitalisation for the extension name during loading)
Small optimizations to reduce vehicle's reset lag
Vehicle Lua reset happens in a thread now. This reduces lag when resetting vehicles
surfaceNormalBelow calculation
Console
Implemented scroll lock/ pause
Added clear button
Vehicle Controller
Added pie menu controls for driving electronics
Improved slow speed turning behavior of Driving Dynamics Systems
Adapted eSBR gauges to DSE
Mod Manager
Added taskbar progress when packing and unpacking
Fixed broken file stat date on mods packed by the game